Silver in various forms are manufactured at AML for different types of Battery applications.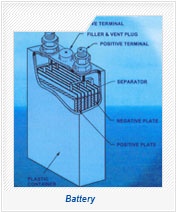 AML also exports its Battery products to the U.K. for manufacture of Silver Chloride - Magnesium Batteries.

The following are the main products manufactured at AML:



A. SILVER EXPANDED METAL



Typical Specification of Silver Expanded Metal

Silver Purity : 99.9% min.
Copper: 0.05% max., Iron: 0.05% max.
4 to 5 openings/em in one axis & 2 to 3
openings /em in another axis.
Micro and Light Gauge Mesh.
B. SILVER TAB (LEAD STRIP)
Typical Silver Tab (Lead Strip)

Silver Purity: 99.9% min.
Copper: 0.05% max., Iron: 0.05% max.
To customer's dimensional requirements.
C. SILVER POWDER EC
Typical Specification of Silver Powder EC

(-) 300 mesh size 90% min.
Volume weighted mean particle size is less than 30 microns.
(Test reference: master size analysis of IICT, Hyd).
Silver purity: 99.9% min.
Copper: 0.05% max., Iron: 0.05% max.
Apparent density: 25 to 35 gms/cubic inch as per IS 4848 - 1981.
D. SILVER CHLORIDE SHEET
Typical Specification for silver chloride sheet
Material Composition:

Silver chloride: 99.94% min.
Silver content: 75.26% nominal
E. SILVER FOIL, WIRES & STRIPS
Typical Specification for 0.001" thick silver foil


CHEMICALCOMPOSITION
MECHANICAL HARDNESS
DIMENSIONS
Silver foil has minimum purity 99.9% silver.
Silver foil is supplied in the full annealed (dead soft) condition.
Thickness: (0.001 ") 0.0254::1: 0.004 mm.
Width: 255.0 (+/- 0.1 mm)
Camber: Less than 0.5 mmlm.